Value of Technology
PermeaPad® is a biomimetic membrane for simulating passive mass transfer through different barriers in the body (GIT, buccal; nasal). This membrane was developed to provide science/research with a way to always obtain consistent and reproducible results.
The PermeaPad® Barrier is ready-to-use, so there is no need to schedule time for pretreatment.
The PermeaPad® Barrier is very robust and stable to solvents and bio-relevant solutions and can be stored at room temperature. Due to the robustness of the membrane, fluid/environment parameters can be selected to simulate in vivo situations.
The PermeaPad® Barrier can be used in various setups, such as Franz cells, side-by-side cells or other permeation setups in manual or automated systems.
The PermeaPad® Plate (96-well plate) can be used for screening and ranking of new chemical entities (NCEs) and formulations.
The PermeaPad® Plate can be used with pipetting platforms.
Mission
Refining, replacing and reducing animal testing
Our mission is to integrate the innovative technology PermeaPad® (biomimetic membrane) in as many applications as possible. In doing so, we want to show our customers how easy and useful in vitro permeation assays are. Our goal is to accelerate drug development and help our customers implement the 3R's (Refining, Replacing and Reducing) of animal testing through technology.
Do you need Scientific Consulting?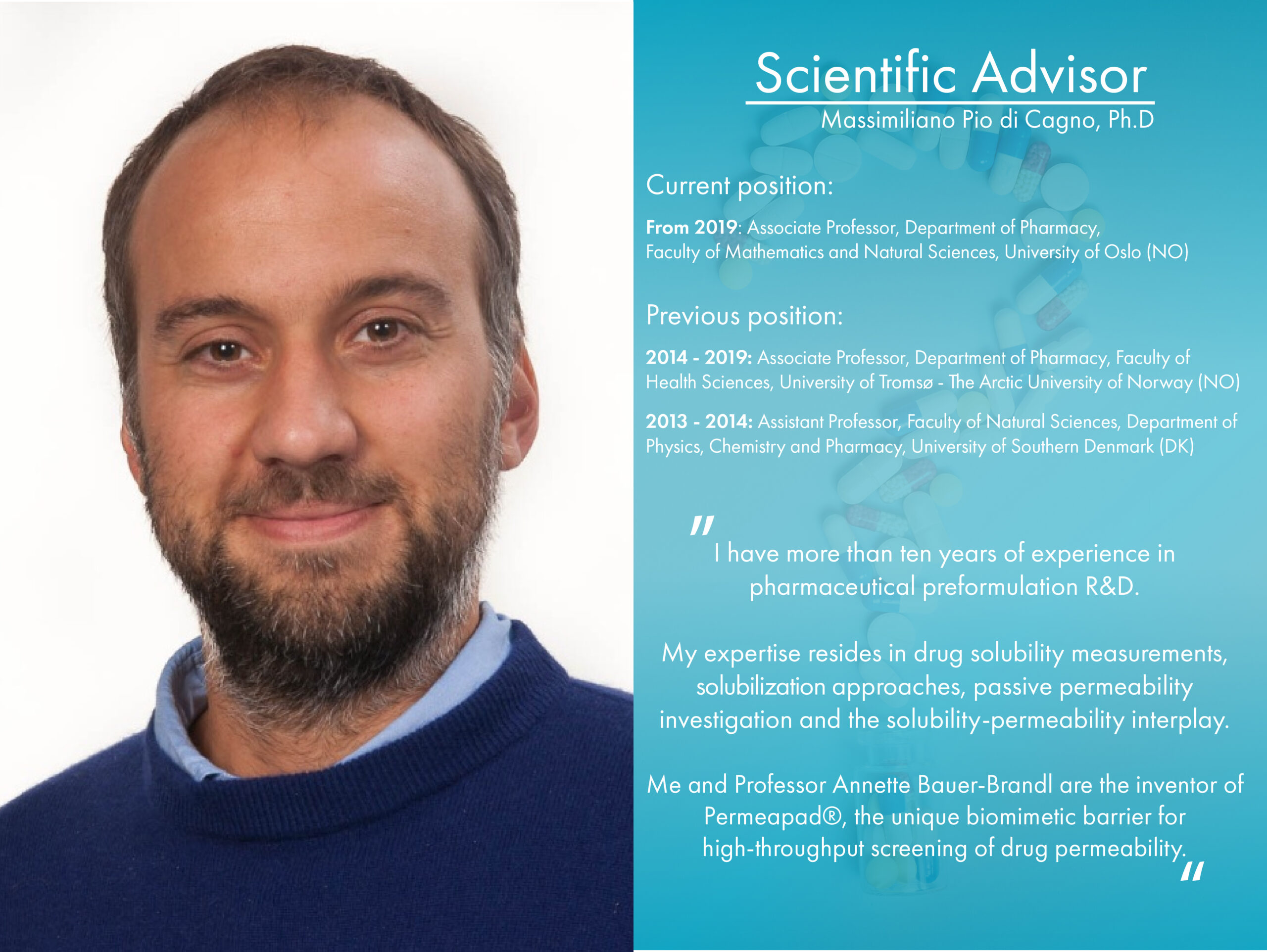 With our Scientific Advisor Massimiliano Pio di Cagno we offer our PermeaPad® and PermeaPlain customers a special service in many aspects:
- Instructions to set up the assay according to your requirements
- Troubleshooting
- Collaboration
- Live support
- Data evaluation and data interpretation
Please do not hesitate to contact us if you need advice or assistance with your experiments.
Our consultant is an expert in permeation and solubility.
Massimiliano Pio di Cagno is one of the inventors of the PermeaPad® and has been working for many years as an associate professor in pharmacy.
Do you have any questions, feedback or suggestions?