The Idea
After unsuccessfully searching for an appropriate membrane, inventors from the University of Southern Denmark thought about how to develop a reproducible and commercially applicable bio-mimetic membrane by their selves. First promising prototypes were built promptly. In 2015 the inventors showed that the membrane was applicable for passive permeations assays of different model substances. The bio-mimetic PermeaPad® membrane, which is patented by now, was born. To enable the industrial production and commercial availability of the invention, the creators approached InnoME GmbH. Finally, in 2018 the product PermeaPad Barrier® entered the market. One year later the innoME and SDU in cooperation managed to integrate the membrane into a 96-well microtiter plate. This let new solutions arise for the high-throughput screening of passive permeability. This novel multi-well plate was named PermeaPad Plate®.
Problems and Solutions
Availability and reproduction of artificial membranes are limited and therefore problematic
PermeaPad® is a biomimetic membrane that simulates the passive mass transport through various barriers in the body (GIT, buccal and nasal). The membrane was developed to provide an option to gain consistent and reproducible results. The time invested in procuring and preparing ex vivo tissues can be spent more effectively. Moreover, no pre-treatment is necessary as the PermeaPad® Barrier is ready-to-use. The Membrane is also very robust, stable against solvents and biorelevant solutions. It is storable at room temperature. The PermeaPad® Barrier offer benefits to users with their experiment in Franz-cells, side-by-side cells or other permeation setups, within manual or automated systems.
The PermeaPad® Plate was developed for customers who have to perform high-throughput screening and need a suitable tool. The 96-well plate with integrated PermeaPad® membrane can be used for the screening and ranking of new active substances (NCEs) and formulations. Furthermore, combined assays can be performed with the PermeaPad® Plate to determine dissolution and permeation rate. The three-part microtiter plate (bottom plate; insert plate with integrated PermeaPad® membrane and cover plate) makes handling very easy and suitable for robot platforms. As with the PermeaPad® Barrier, pre-treatment of the membrane is not necessary. Due to the robustness of the membrane, liquids and environmental parameters can be selected in such a way that they can simulate in vivo situations.
Do you need Scientific Consulting?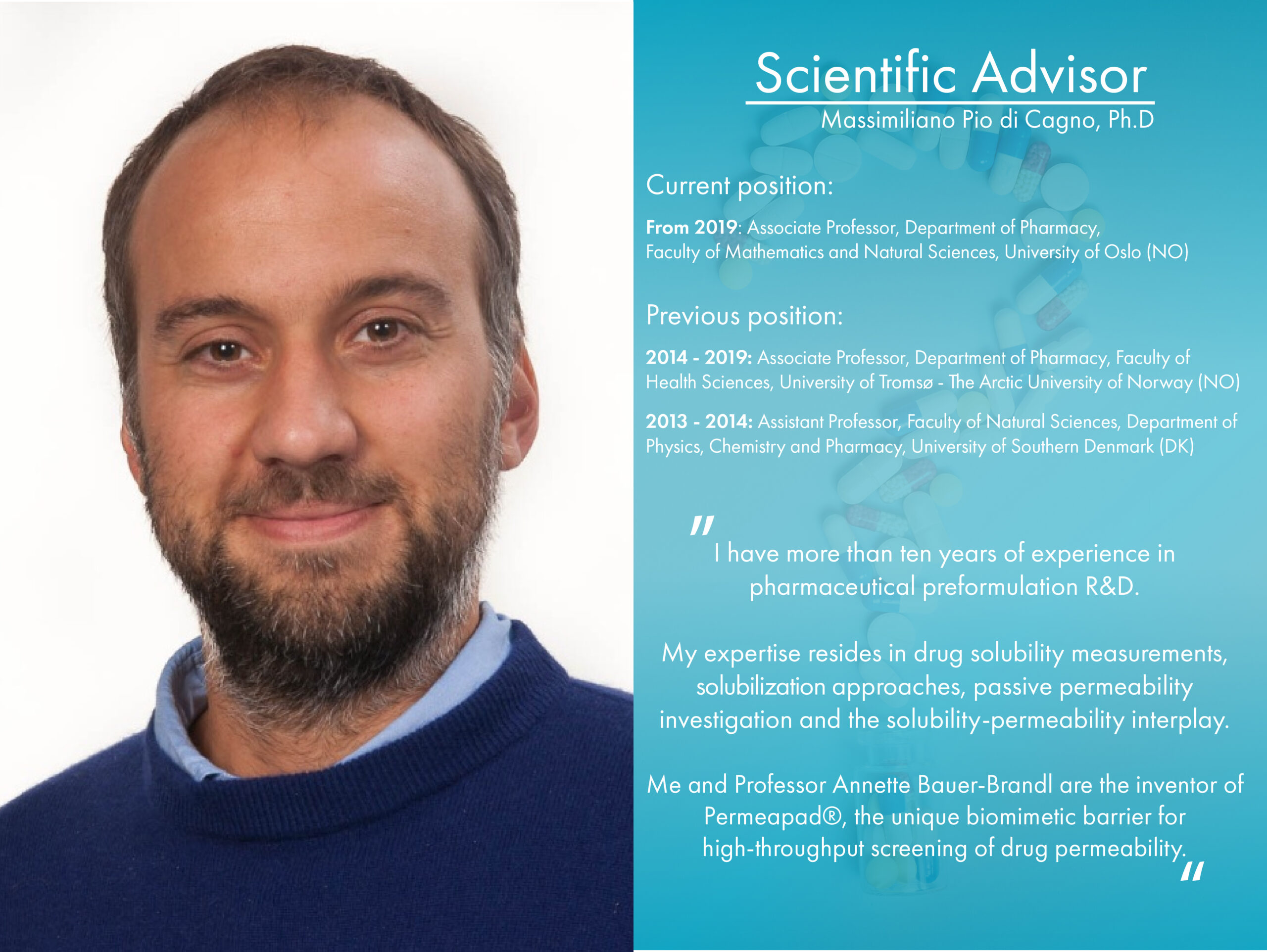 With our Scientific Advisor Massimiliano Pio di Cagno we offer our PermeaPad® and PermeaPlain customers a special service in many aspects:
- Instructions to set up the assay according to your requirements
- Troubleshooting
- Collaboration
- Live support
- Data evaluation and data interpretation
Please do not hesitate to contact us if you need advice or assistance with your experiments. Our consultant is an expert in permeation and solubility.
Massimiliano Pio di Cagno is one of the inventors of the PermeaPad® and has been working for many years as an associate professor in pharmacy.
Do you have any questions, feedback or suggestions?